Welcome to my page about A man and his musical and ancient computer related exploits in a humble shed 🙂 If you are interested in music for your game or other production please contact me and I'll do my best to help whatever the circumstances 🙂
First tune of 2023!
A few months ago the shed of dreams gained a Yamaha MODX6+. Very different sounds to the roland fa06 which was the previous centre of my music.

Take a listen in these places!
https://amaninhistechnoshed.bandcamp.com/track/hi-jinx
https://soundcloud.com/richard-faulkner/hi-jinx?si=2323d8f379e843829ddc9768d90d3d04&utm_source=clipboard&utm_medium=text&utm_campaign=social_sharing
It's time for another escapee from the shed of dreams to reach it's potential and run free 🙂

Proud to announce preorders are now open for the fantastic game, tx-1696. It's going to blow your socks off! A Technical tour-de-force, with 90s-ish electronic music, fantastic graphics that stretch the machine, and gameplay to match!
https://luckyredfish.com/priority-order-list-for-tx-1696/
The excellent game Dougie do featuring an AY soundtrack by myself is now available at: https://robgm.itch.io/dougie-do. It's a free download so no excuse not to try it – it has that just 'one more go' feel absolutely nailed 🙂
The Bikers soundtrack is now on spotify et al for those who havent had a chance to listen!
https://open.spotify.com/album/4uscJiYpocUULmJPfwGO4Z?si=dTZ6Q_ppSYGAiiK4GDQfKQ

The electronic sounding music I've made over the last year or so is now an album:
https://open.spotify.com/album/2dZNU5lYqdvKWHzwO1PYBA?si=j6XtlacNRMeVA0i01Mwk-w
I'm very proud to have this CD included with the deluxe release of Bikers for the Spectrum Next. This is a recreation of all the chiptune music contained within the game!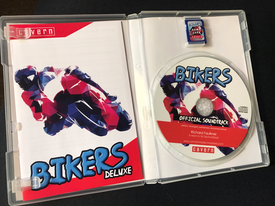 My most ambitious tune to date is my latest release Ebbing away. Take a listen here – especially if you enjoy a little progressive rock!

This features multiples guitars layered as well as the MS1, The Deepmind 12, the model D, the Roland FA06 as well as the Atari ST and toontrack drums on cubase 11. Also getting a little better at getting vocals to fit the music.
Take a listen to A New Beginning on any of the platforms below. It's the first time i've sang on a recording, and i hate how my voice sounds, but it's a song about my dealing with cauda equina syndrome over the last two years. I'm the first to admit the emotion is in the music rather than the words, but i hope you like it!
https://open.spotify.com/embed/album/3B4diY38LI5XDtXxEDEFkj
Proud to announce that A blank canvas, a charity album to keep retro computer museum going through the pandemic is live. https://blankcanvascharity.uk/ I've done 5 tracks and there are superstar computer musicians and other talented musicians with an interest in vintage computers.

A bit of a flavour of the RCM's Blank Canvas CD… Some fantastic tracks, and a huge variety of styles. Every sale helps keep the RCM afloat through the pandemic. Available at https://blankcanvascharity.uk
First the music! (Bandcamp gives most money to the artist for a purchase – spotify pays best if you're streaming!)
My music is available on Bandcamp:
https://amaninhistechnoshed.bandcamp.com/releases
Amazon:
https://www.amazon.co.uk/s?k=A+Man+in+his+TechnoShed&i=digital-music&search-type=ss&ref=ntt_srch_drd_B08MWQ6YK1
Apple Music:
https://music.apple.com/us/artist/a-man-in-his-technoshed/1539137280
YouTube:
https://www.youtube.com/playlist?list=PLZ9OBgIegoH2QQt-LO928cr3XCCnpVY0D
Spotify: